In stark contrast with my normal Thursday posts as of late, I've decided to do a post on things I'm currently loathing. Shall we proceed?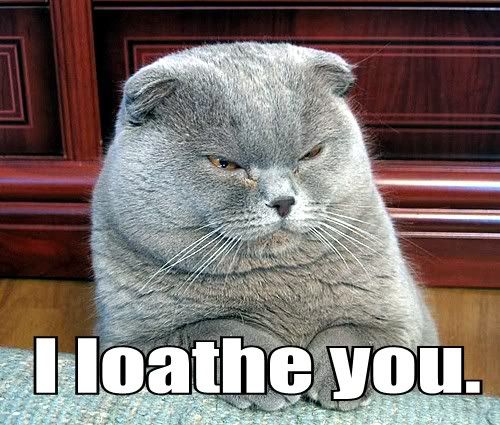 Jergens Natural Glow-
Yes, I read all the hype about them changing the formula. Well, it still smells like pee. For reals. Now, I will admit I'm probably more sensitive to the self-tanner smell than most, but I still smell it. So, odorless tanning, my foot, Jergens!
[Note: Though the odor is there, it is delayed a little. It doesn't smell immediately when you put it on, but later on. Also, the color is still fantastic, so I can deal with the smell...for now.]
//2.
Eating the rest of my Reese's Peanut Butter Eggs-
You have no idea. It has been the delight of my nights to open one of those jolly yellow wrappers. The last one was consumed yesterday evening. Sadness and despair... :(
//3.
Men that can't get the hint-
If you're trying to talk to me in the checkout line at the grocery store and I'm animatedly texting someone on my phone...get the hint.
//4.
Weather that can't make up its mind-
50 degrees and sunny, then 70 degrees and sunny, then 40 degrees and rainy, then 80 degrees and sunny? No wonder my sinuses are a wreck.
//5.
And speaking of sinuses...allergy shots that don't seem to be working-
I'm starting month 6 here of allergy shots and they don't seem to be helping. Sigh.
//6.
The fact that I am STILL episodes behind on my favorite tv shows-
At least 2 episodes behind on The Mindy Project, one behind on The Office, two behind on New Girl and countless others. Really??!!
//7.
Tucked in sheets-
That one is pretty self-explanatory.
//8.
Justin Bieber-
And anything else associated with him, his shirtless pics or his "difficult" celebrity life.
Well, since I shared my current loathes, how about you? Anything you've been loathing lately?