Better late than never, right? Today's post, that is. :)
Next Thursday is the first day of Spring. Man, I just love springtime. ALMOST as much as I love the fall. [Note, if football was played during it then Spring might officially be my favorite season.]
Something I also love are men.
While a lot of us ladies are very excited about debuting spring colors, styles or pedicures, we often neglect the spring fashion of our male counterparts. Now, I fully know that the average man isn't interested in what the spring fashion trends are. However, it's fun to at least look and see what's big in the male fashion industry this season.
So, shall we?
1.
Gray
. Gray is making a huge comeback this season for men. Not all shades...but more specifically a pale shade of gray. Can I just say that this shade of gray with a pastel shirt? LOVE!
2.
Loafers
. Love these! I also have seen quite a number of men wearing these with jeans already. A word of caution...no socks. Okay?

3.
Pocket squares
! Oh man, this is exciting. I've always thought pocket squares were super-fancy and chic. I'm glad that they are big this year.
4.
Double Denim
. Yep. The dreaded DD. I am NOT a fan of this look. However, it is pretty big this spring.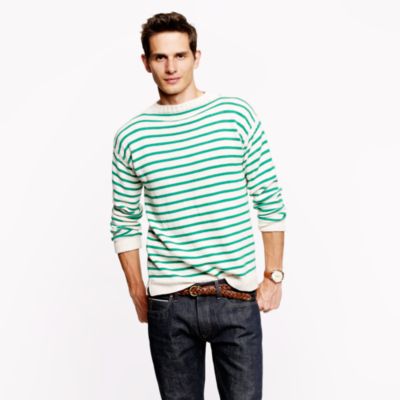 5.
Stripes
! This is another trend I can definitely get behind. I love me some stripes so men in stripes? Yes please!
Would you try any of these trends? (if male) Would you want your spouse/bf/etc. to try any of these? (if female)