Hey y'all! I'm sharing a DEELISHOUS recipe today for Mexican Cornbread. Y'all this is great as a side or even by itself as a main dish because it's substantial and, did I mention, delicious? It's a bit more moist and dense than regular cornbread, so try it and dig in!
Oh, and I use a cornbread mix (gasp!) my grandmothers would not approve, however, this lady ain't got the time for a cornbread from scratch recipe.
Mexican Cornbread (or Mexican Spoonbread)
Ingredients:
1 package of Jiffy Cornbread mix
1 can of creamed corn
2 tablespoons chopped jalapenos (or to taste)
2 eggs (or whatever is called for on the Jiffy mix box)
1 cup of shredded cheddar cheese
1 dash of Cholula hot sauce
1/2 cup of sour cream
1 small chopped red (sweet pepper)
1 tablespoon dried onion (or 1/2 tablespoon onion powder)
Mix well until completely blended. Add onion powder and jalapenos to taste (I use less). Bake according to mix directions. Remove from oven and allow to cool. Enjoy!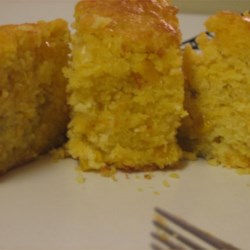 Well, happy Thursday!